Hey y'all, I'm back!
It was a nice trip...Will and I got along the whole time...I don't think I cried for any reason other than the funeral itself. The weather was frigid, to say the least, but we did get to see some snow flurries! I came home with cheese, sausage, and more cheese. I saw some family that I haven't seen in nearly 10 years. Aria can totally spend 16 hours riding in a car and be nearly perfectly behaved....well, as long you put a screen in front of her face, that is! She used up half of our data plan on the way up watching Netflix, but she was quiet, so it was worth it.
While up there, my aunt and cousins were talking about Thanksgiving. They don't do typical Thanksgiving...they do it a day or so afterwards, so everybody can manage to get to their in-laws on the holiday, and then gather together in the next few days. Not only do they do it a different day, but they don't have typical Thanksgiving food, either...they're having Mexican night!
Now, you know me...our family LOVES Mexican food. We love having taco night for any occasion, we have chimichangas for Halloween, and we have Mexican Monday every Monday night. Everybody can find something to eat at Mexican! Even Aria loves it....the guacamole, the sour cream....and she almost always get's the same thing: grilled shrimp and a cheese quesadilla.
Anyway, that got me thinking about the tasty Mexican things I have on my Pinterest boards :)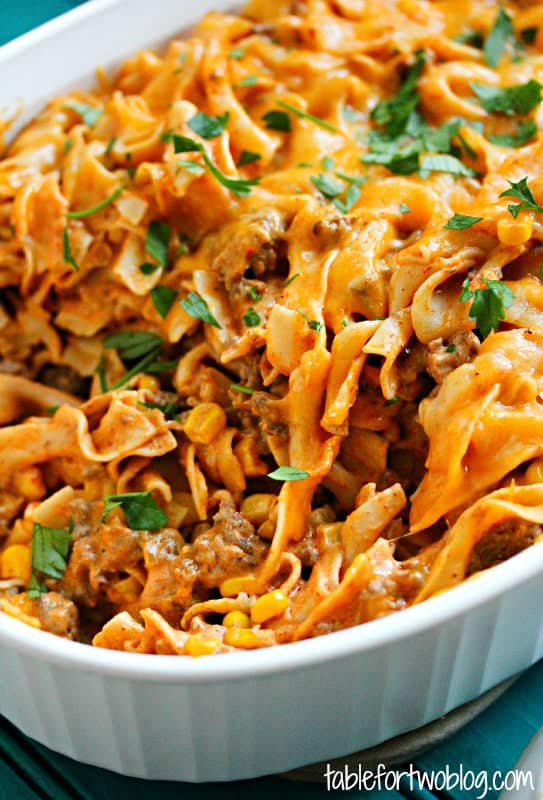 Enchilada Casserole >> recipe HERE
Dave asks for this often. He just loves it. I love it, also...it's easy, only uses three dishes (two if you use a disposable foil pan), and is easily adaptable to meet your tastes. I alter the recipe, of course. I use ground turkey instead of beef, 2 cans of corn, 1 block of cream cheese, 1 cup of sour cream, no green chilies, and I put it under the broiler when it's finished to get nice and brown and bubbly. It's amazing and easy and cooks in less than 30 minutes from start to finish. Leftovers are great also!
Tex Mex Margarita Chicken Salad >> recipe HERE
Some people don't like salad...but I LOVE salad! I'm not always too crazy about it as a side dish or an appetizer, but I'm totally on board with a wonderful salad for my meal! Dave likes this one, too...which I, of course, alter to fit my needs. I use BBQ sauce on my chicken, I 86 the avocado and beans. I mix up a whole can of corn, store-bought pico from the produce aisle, and lime juice in a skillet until it's nice and warm and maybe even getting a few char-marks on the corn. I use a LOT of cucumber and a LOT of cilantro. And cheese, of course...and ranch. So I guess, in all actuality, it's not really the salad pictured here at all. Oh well. I blame Kroger for being out of Margarita mix the day I went shopping for ingredients.
Beef Enchilada Dip >> recipe HERE
I'm not going to lie, I can't remember if I've made this dip yet or not. But it's basically just cheese, ground beef, corn, and enchilada sauce baked to a gooey wonderfulness. Get some good dipping tortilla chips and have at it! It looks so warm and inviting :)
Mexican Stuffed Shells >> recipe HERE
I've got a love for stuffed shells. To be honest, I used to NEVER like them when mom made them. I didn't like the ricotta cheese mixture inside of them...I always said "I don't like crumbly cheese...it looks like it came from a goat!" and I refused to eat it. No stuffed shells, no ravioli, no lasagna....nothing. But then, I grew up. I learned to taste things, even if I was pretty sure I wouldn't like them. Turns out, I LOVE ricotta cheese! And, oddly enough, I also really appreciate a good melted goat cheese (it's tangy and delicious). Mom brought these Mexican stuffed shells for lunch one day, and I was sad when they were all gone....they were SOO good! And I like that you can make them your own...use sour cream, use enchilada sauce, include corn in the meat, add more cheese (so much cheese). They were simply amazing!
Chicken Fajita Pasta >> recipe HERE
I've made this. And y'all...it's phenomenal!! I love fajitas. I love to make them. I love the chicken, the peppers, the seasoning, the sour cream you pile on top...I just love them. But this pasta....it's legit! It's creamy and flavorful....easy to make...and so scrumptious! Give this one a try. Seriously. You'll definitely thank me for it!
I forgot to mention....I've started my physical therapy. Folks...physical therapy ain't no joke! That foam roller.....it hurts my leg, but more so, it hurts my upper body. I've got a lot of weight to hold up on top of a roll of extremely hard styrofoam! And I'm supposed to use a rolling pin on my leg at home to work it out. I've got Dave helping me with that. Ouch. Today, my calves hurt...my glutes hurt...my quads hurt. And, of course, my upper body hurts from that stupid foam roller. Twice a week for two more weeks (at least). Ugh.