$2,800....that's the price of our week at Disney for the three of us. Aria's surprise vacation next year.
Dave mentioned the other day how he was so excited and he wished it was closer than 7 months away. I, on the other hand, merely grunted. I'm not excited about it. I don't see it as something amazing...I see it as a week in Hell.
The "most magical place on Earth" is, as far as I'm concerned, one of Dante's circles of Hell.
Aside from the fact that I do NOT like big crowds with people milling about in every direction
(I tend to panic, get itchy, and then cry).....
I'm getting itchy and nervous just looking at this.
Aside from the fact that I can't stand spending that kind of money on anything and it physically pains me every month when I make a $200 payment and we still owe $2K ...
Aside from the fact that, while I know our whole vacation will be paid for, we still need to save up a ton of money for souvenirs because Dave is a "souvenir person" so I know we'll be buying a bunch of stuff for him and Aria despite my protests of "but memories are just as good, if not better, than souvenirs"...
Aside from the fact that I'll be pushing a stroller around against my will and will undoubtedly be the one who hangs back from the crowd so as to not get in the other patron's way with my childless stroller and will miss all of Aria's excitement because I'm 10 feet back...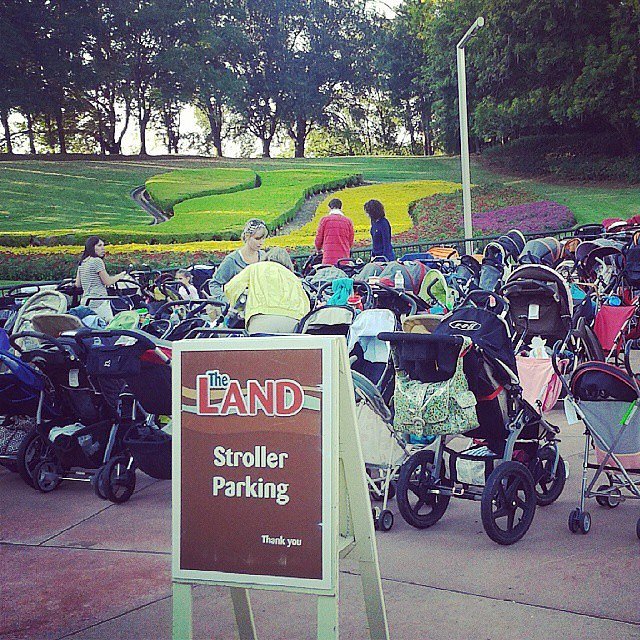 I'm NOT looking forward to this. At all.
Worse than all of that, I'm certain, will be Aria.
I picture her losing her mind in a crowd full of 10,000 people.
I picture her crying on all the rides, ruining all the other patron's times.
I picture her cowering in fear every time we get to the front of the line to meet a Disney Princess.
I picture her screaming every time we tell her we can't buy her something from every kiosk or every store (I don't spoil my child with buying her things every time she asks, but that doesn't stop her from freaking out about it as if she were a spoiled brat).
I picture her not standing still in line and I end up screaming at her in front of 10,000 people.
I know how awful she can be at Target....and how awful she was at Arts in the Heart this past weekend....I picture it being a million times worse at Disney World.
Dave asked me what else we could do, vacation wise, for $2,800. He implied WITH Aria...all I can think of is doing it WITHOUT Aria.
So here are five other options we could do for around $2,800...sans child.
(according to my search today)
7 night Royal Caribbean Alaska Cruise >> HERE
7 nights....travelling north from Vancouver, Canada to Seward, AK. Seeing glaciers...and moose...and whales (maybe)....for $806 per person (taxes + fees included)....leaving $1186 for airfare and optional excursions.
10-day tour of Greece >> HERE
Dave and I had a WONDERFUL time on our honeymoon touring Europe! We met some great folks, saw some beautiful countryside travelling by bus, and had a top-notch tour guide and bus driver! I would ABSOLUTELY go on another bus tour with COSMOS! And this one...10 days in Greece...sure it misses out on Crete, Mykonos, and Santorini...but Mykonos is only a 5 hr ferry ride away from Athens :) Anyway....this one may be a little costlier once you figure in airfare and the optional excursions....$1249 per person, leaving only $302 for airfare and excursions
6-night stay in the Maldives >> HERE
Chaaya Lagoon Hakuraa Hurra in the Maldives is the place for me!! An all-inclusive 6-night stay in a private bungalow OVER THE WATER! HELLO! Welcome to paradise..... $367.80/night (no booking fees)....$2200 for Sunday through Saturday, leaving only a little left ($600) for airfare...but wouldn't it be worth it to spend just a little extra for a week-long stay in this place?! OK...so there may be a $426/person fee for floatplane transfer...but that's OK, too!
5-night stay in Aruba >> HERE
A 5 night stay at the Marriott in Oranjestad, Aruba...in a one bedroom ocean-view suite, airfare included from Augusta....$2852. I'd gladly pay $2800 to share a beach with flamingos :)
12-night Blue Ridge stay >> HERE
We LOVE to vacation in Blue Ridge! We could stay here for 12 nights ($215/night) for $2580....and we wouldn't have to fly anywhere or spend more than 4 hours in the car! And...Aria and Sophie could actually come along here! And that view...the name of this cabin is "Amazing view"...and I know why. Hot tub...fire pit...king size bed...pool table...and that view. That beautiful view.
Yup...I'd take this over Disney ANY day!
Or, we could stay at our regular cabin ($135/night) for 20 nights! 20 nights for $2700!!!
And one more for good measure.....
1 week participation in an archaeological dig in Virginia on the property of James Madison and his slave quarters
($1500, lodging included) (check it out!)
--- Or, for two weeks just one person (me!!!) can participate in a dig at an ancient pottery dump in Rome for $2900...airfare not included
--- Or, for two weeks just one person (me, again!!) can participate in a dig at suspected ancient Mayan ruins in Belize for $1750...airfare also not included
There's a TON of possibilities for $2800 that do NOT include a trip to the most miserable place on Earth.
Sure, it will be nice to see Aria's face light up when she sees the castle that she's seen a bajillion times at the beginning of movies. And sure it will be nice to catch up on all the Disney movies before we go (so she can be familiar with all the characters). Of course it'll be a FANTASTIC time if Aria completely surprises me and behaves like the perfect angel I know she can be because I'm told she is at places like school and Grandma's house.
I've been to Disney World once...I was somewhere between the ages of 9 and 12. I remember a lot of heat, a ton of people, and a TON of time spent waiting in lines. Lines for the rides...lines for the characters....lines lines lines lines (I said that in my head like when the Grinch says "all the noise noise noise noise..."). I didn't see it as "the happiest place on Earth" or "the place where dreams come true" or "the most magical place on Earth" or "the place where adults can be kids" ....I just didn't see it, even as a kid.
To be honest, I'm not looking forward to it....not at all. (well, aside from Animal Kingdom)
Oh the things we endure for our children....and husbands....
This article right >here< is for Dave.....read it....find a way to CONVINCE ME that it'll be great (and Aria's smiles and excitement don't count).