So I asked for suggestions for a FFF post on Facebook yesterday, and the only one I got was something I can't even help with....SORRY TRISHA! But in looking at Pinterest lat night, I was struck with an idea....comfort food :) Everybody knows comfort food....it's food that makes you feel better on a not-so-good day (or food that makes you feel GREAT on a good day). Sometimes it's things you remember eating as a child...like Great Grandma's paczki (a super-awesome doughnut hole for my non-Polish friends)...or mom's twice baked potatoes....or mom's hashbrown casserole (thank God she makes two pans of this stuff). Sometimes it's things you've found as an adult that make you feel all warm and fuzzy inside every time you make it...like my new found love of skillet chocolate chip cookies! It can be any type of food offered for any meal.
Food + warm fuzzies = comfort.
That's all you need to you know!
So below are some things that I consider comfort food for myself!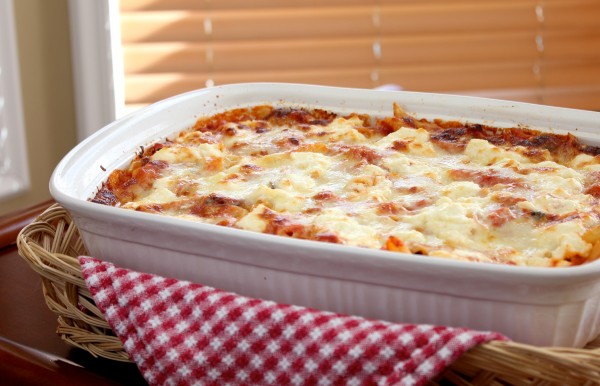 Baked Ziti >> recipe HERE
Sometime last fall I think Dave asked if I knew how to make baked ziti. I didn't, but said that I had a yummy sounding recipe I could try. So I made it. Y'all...this ziti is like the epitome of comfort food! First off, it's noodles and cheese...so win-win! But it's baked to deliciousness and then I go an extra step and pop it under the broiler until the top has little golden pockets of greatness all over it. MMM!! It's super easy, but bakes for nearly an hour. It calls for 4 cups of marinara sauce
(2 jars)
... I usually use one full jar of
Prego Roasted Garlic and Herb
(it's gluten free)
and then half a jar of
Prego Fontina and Asiago
(also gluten free)
. I've also used a jar and a half of
Merlot Marinara
, which is quite possibly my favorite sauce. Needless to say, I only use about 3 cups of sauce. Also, it only calls for 2 cups of mozzarella cheese...that's stupid. I buy the big bag and use the whole damn thing! And I also use the larger container of ricotta...don't skimp on the cheese, guys! I recommend using a foil pain instead of a baking dish, it makes clean-up so much easier! The best part about this ziti is that it tastes even better the next day as leftovers! Make this, I'm not kidding when I say you won't regret it! Side note: as a kid, I hated ricotta cheese...but then I learned that when it's all mixed together with sauce, it just makes for an extra tasty creamy cheesy sauce. YUM!
Chocolate chip cookies >> THIS recipe is the perfect chocolate chip cookie
I love to bake cookies...and there are few things in this world more comforting than fresh-baked, still-warm, still-gooey chocolate chip cookies and a SUPER cold glass of milk (whole milk...not that skim milk crap or milk substitute...it's gotta be the real deal here)! When I stumbled upon this recipe, I didn't know it would become my favorite (and my family's favorite) cookie. Some key points when making cookies:
Soften the butter on the counter, not in the microwave. You don't want your butter melted...it needs to be softened. And the butter needs to be unsalted. And take your eggs out when you take out your butter...eggs should also be room temp.
Line your baking pans with parchment paper. The cookies just slide right off and are browned nice and evenly.
Invest in an oven thermometer so that you know how hot your oven REALLY is...nothing sucks more than over-baked cookies.
Don't just use a regular eating spoon to make balls of dough and drop on your pans. Use an actual cookie dough scooper or, my favorite, use the silicone measuring spoons. Tablespoons will give you standard sized cookies (like the ones shown above) and the teaspoons will give you mini cookies. -- side note, cooking times will vary depending on size of the cookie.
If you like a pop of salt with your cookie, make sure you use the coarse sea salt...it's worth it!
Put your dough in the fridge for a few minutes before scooping. 1, it's easier to scoop and drop..and 2, it bakes better with less spread.
Put paper towel down on your cookie racks to soak up the extra oil as they're cooling. You'll appreciate this tip!
I use more than the recommended measurement of vanilla. I love vanilla...I don't measure it, I just pour :)
And finally...this cookie dough is delicious even before it's baked! Don't worry about what your momma said when you were a kid and wouldn't let you eat the raw dough...she was full of crap!
Beware...this recipe makes A LOT! If making regular size cookies, it makes about 100. If making mini cookies, it makes nearly 200. These cookies are so fantastic that my family requests them...often!
The Pioneer Woman's Mac and Cheese >> recipe HERE
This right here was the basis for my post! You have to look passed the peas...who puts peas in mac and cheese?! Blech! Anyway....it uses velveeta (generally a no-no) and sharp cheddar cheese to make the sauce...seasoning salt and pepper...and bacon. Mmm!
Pasta with breadcrumbs
It's no secret that I LOVE pasta. Seriously love it. When my husband and I first started living together, he made this for me. I was worried about it at first....worried about it being too....much. But oh man, it wasn't! You take pasta, cook it up real nice. Then you add a *generous* amount of butter and stir until its all melted and some should be pooling on the bottom of the pan. Then you add in Italian style bread crumbs and some shaky cheese and voila! You're done! Sometimes I use Italian dressing instead of butter. Both are scrumptious!
Double Chocolate Layer Cake >> recipe HERE
This is a horrible picture...but this is the BEST chocolate cake recipe! It goes well with ANY frosting! It's SUPER rich as it uses cocoa powder and dark roast coffee to melt the chocolate squares (which, of course, ought to be bittersweet or semisweet....NOT milk chocolate). This cake is so moist and delicious! Chocolate cake makes EVERYTHING better :)
Have a great weekend!