I've spent an awful lot of time lately looking at dessert recipes
(check out my dessert board on Pinterest!!)
in hopes of finding two PERFECT recipes for Dave's birthday next week. Yes, I'm making him TWO birthday desserts....he's so spoiled! He first asked for a chocolate cheesecake, and then later decided that he didn't want to share it with anybody, so I had to make another dessert to bring to birthday dinner to share. He chose chocolate cream pie. So I'll be buying an awful lot of chocolate at the store this weekend!
Naturally, knowing that I'm baking with a lot of chocolate this weekend, all I can think about is...you guessed it...chocolate!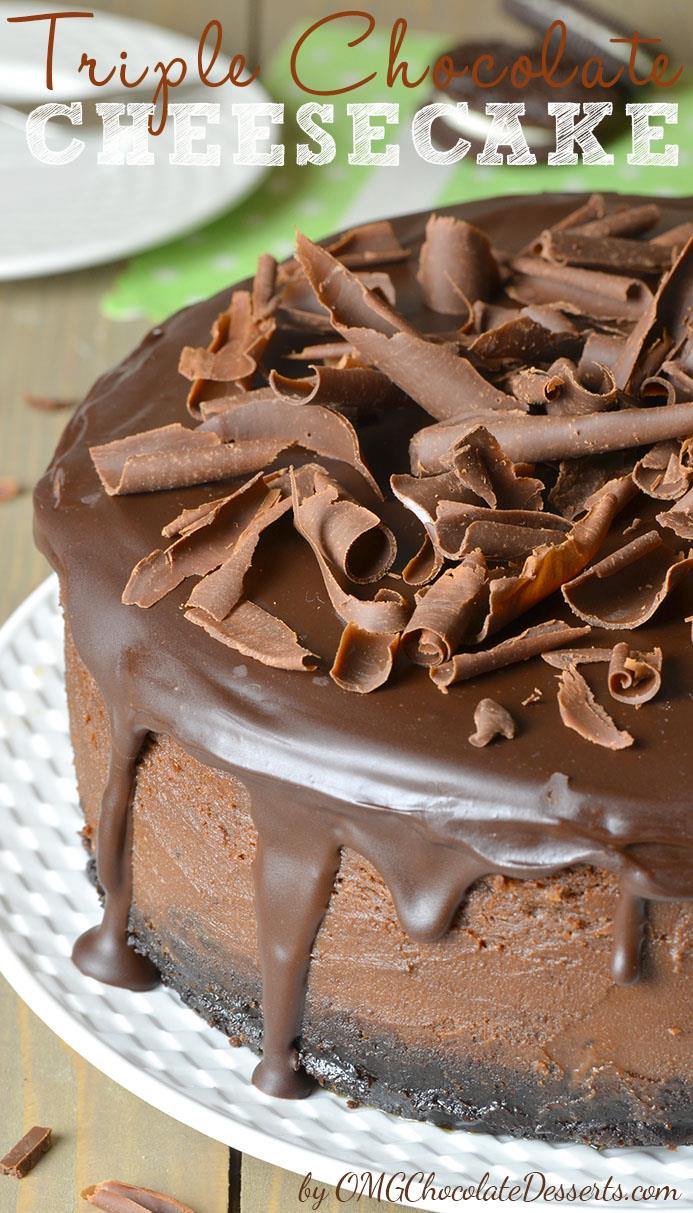 Get the recipe >> HERE
So this beauty is the cheesecake I've decided to make for my man's birthday. Holy moly...look at it! It's got an Oreo crust, chocolate cheesecake filling, chocolate ganache topping, and chocolate curls on the very tip top. OH MAN HE'S GOING TO LOVE IT! I've recently discussed my *difficulty* with cheesecakes and the
canyons
that form when baking them goes awry. But I'm going to give it another shot...maybe I'll even take pictures and post a "how-to" entry.......maybe. If you don't see one, you know it was a disaster!
Epicurious' Chocolate Cream pie >> recipe HERE
This chocolate cream pie will be the "shareable" dessert for Dave's birthday. The pudding in the middle is home-made....the cream on the top is home-made...and, of course, you can't go wrong with an Oreo crust! Actually, it uses chocolate wafers, but I don't know where to buy them (I've never seen them at Kroger), so unless I happen to stumble upon them, Oreos it is! One for me....one for the crust... and so on and so on :)
Oreo Truffles >> recipe HERE
OK folks...this one I've actually made...and made it a LOT! It's so easy and generally already messy, so even kids can help. All you need is a package of Oreos, a food processor, a block of cream cheese, and chocolate (white or brown) meant for melting/dipping. Pulverize the Oreos in the processor until they are the consistency of dirt...a super fine dirt. The finer, the better! In a bowl, combine the Oreo dirt with a block of softened cream cheese and mix it together with a hand mixer until it looks like mud...super tasty mud. Next, scoop out spoonfuls of the mixture and roll out into balls (this is where it gets messy...MESSY) and place on a wax-paper lined pan. This is great for the kids because it doesn't matter what size they balls are...so if your kid is making smaller balls than you made, no big deal! Melt the chocolate (in a microwave...or on the stove if you're an over-achiever), plop the balls in a few at a time, make sure they're covered completely in chocolate, then fish them out and put back on the wax paper tray. Put in the fridge to cool for a few hours...and voila! The texture is wonderful (hence why I said "The finer, the better") and they taste like little balls of chocolate Heaven! Leave them in the fridge, though...they'll start to get melty if left out for too long.
I realize this may be hard for some people to wrap their head around, but hear me out! I've recently discovered (like, in the last two years) that I really enjoy goat cheese (especially when it's warm and creamy in texture). I used to HATE goat cheese! In fact, I hated to eat lasagna because I said the ricotta cheese in it looked like it came out of a goat and was just "sooo gross". I now know the difference between goat cheese and ricotta cheese, and find both quite tasty. Anyway, goat cheese is really tangy in flavor and can be really overpowering, so it needs to be paired with something sweet and equally fierce in flavor so both ingredients can stand out. Case in point: goat cheese and raspberries. Both very strong flavors that, when paired together, will compliment each other making for a scrumptious combo. And of course...combine both ingredients with chocolate...yum! If you're feeling adventurous, give this try....and let me know how it was before I attempt it!
Quick and Dirty Chocolate Espresso Cinnamon Rolls >> recipe HERE
But Allysa, I thought you said this entry was about chocolate...what's with the cinnamon rolls? DUH, there's chocolate in them, calm down! The owner of this recipe
(Joy the Baker)
has my FAVORITE blog! I've got so many of her things pinned and have both of her cookbooks on my Amazon wish list! She makes such tasty looking things with such beautiful pictures. Seriously, go check her out >>
I'm not kidding, click on this link
! These cinnamon rolls are filled with espresso powder
(you can leave it out if you're not into that)
, cinnamon + sugar, cocoa powder, and chocolate chips. I'm not going to lie, I would use mini chocolate chips and I'd definitely toss more in than she did. Bake them up, drizzle with some glaze...and look, chocolate for breakfast :)
If you didn't have a chocolate craving going into this, I bet you do now! You're welcome! Have a great weekend and send me good vibes for my cheesecake that I'm both excited about and dreading at the same time!